Indonesia Building Technology Expo 2014
2014/05/12
D&D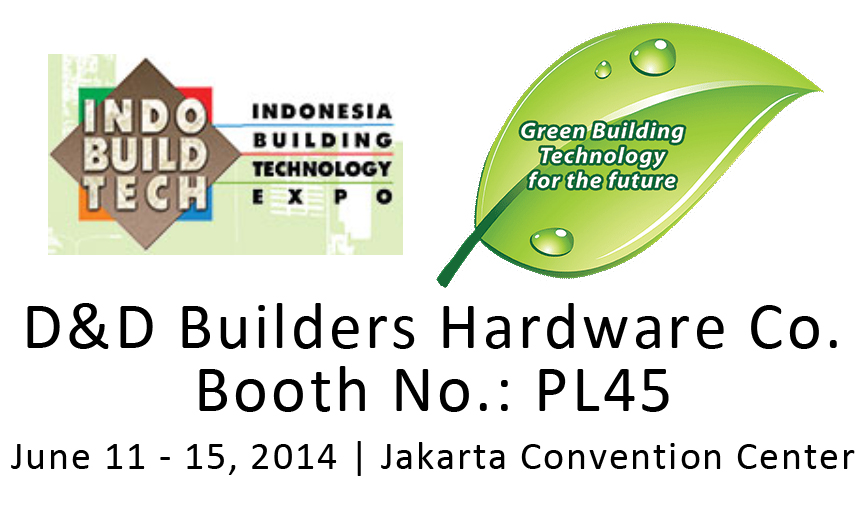 INDOBUILDTECH attracts professionals from all aspects of the building industry. Architects, building owners, code officials, contractors, developers, educators, engineers, facility managers, financial service providers, government agencies, green power providers, home builders, interior designers, landscape architects, nonprofit organizations, product manufacturers, schools, universities, students, and urban planners will all be at the conference to share ideas and promote greener building.

Wanna enjoy the beautiful sun and beaches in Indonesia?
Come on, go to Indonesia and see us at our booth!!

See you in Jakarta!
More Information
INDOBUILDTECH EXPO JAKARTA 2014will be in Jakarta
June 11 - 15, 2014.
D&D Builders Hardware Co., Stand No.: PL45
Press Release
Looking for Agents

We are looking for district agents and dealers, for our hot items, you're welcome to apply for if you have certain confidence and determination.

Read More

6 Series SLIDEback sliding door closer

D&D's 6 Series SLIDEback sliding door closer is a semi-automatic style door closer. When the door is opened, the self-closing feature can make the door closed automatically, the smooth closing...

Read More

Glass Patch Lock set with mechanical latch for interior door

Our glass patch lock PLI-10LR series applies for the fascinating frameless glass doors and it is a simple and elegant lever handle lock set for frameless glass door in the private environment....

Read More