Cam action door closer with slide channel
DC-LOF ProSLIDE series
Surface mounted door closer with sliding arm and cam action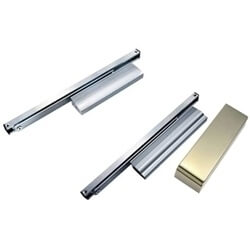 The cam action door closers with slide channel have a light resistance for door opening. This design benefits the old, women and children to open the door easier.

The surface mounted cam action door closer is ideal to apply to interior and exterior doors, and also suitable for commercial and residential buildings.

The surface mounted door closer with slide channel adopts CAM action technology and offers easy door opening, has the advantage of an almost immediate reduction in resistance.

When the door is opened, the cam action door closer provides the maximum 5lbs opening force, meet the DDA (Disability Discrimination Act) regulation, which mandates a door closer must produce an opening force less than 30N between 0° to 30° and less than 22.5N between 30° to 60°.

*Forbid selling to Japan.
Features
Lighter opening force and more powerful latching speed
Non-handed
Available in single size 3 and adjustable spring force size 2~4 & 2~5
Separated valves to adjust closing and latching speed
Optional hold open clip, can hold a door open at any angle
Optional back check, delay action and stainless steel cover
Cam action door closer with slide channel similar to Dorma TS91/92
Provide constant closing speed under a wide variety of temperatures
300,000 cycles tested, with 5 years warranty and lifetime after sales service
Specification
Power size: 3 & adjustable spring strength size 2~4 & 2~5
Max. loading capacity: 100 kg
Max. door width: 1250 mm
Main material: aluminum
With slide channel
Finish: silver, but other colors are available by request
Packing details
1 set in 1 box
10 sets in 1 carton
Applications
For interior and exterior doors
For residential and commercial buildings
E-catalogue Download

---

The cam action door closers with slide channel have a light resistance for door opening. This design benefit the old, women and children to open the door easier. The surface mounted cam action door closer is ideal to apply to interior and exterior doors, and also suitable for commercial and residentional buildings.

---

---

Related Products

DC-D38, DC-D45, DC-M45 series

---

The DC-D3800 and D4500 door closer are designed for concealed installation in door leaf and door frame. This invisible door closer has the same function as the exposed door closer, but it is hidden in the door and door frame. The conceal door closer is suitable for almost every type of doors including internal and external doors. *Forbid selling to Japan: DC-D3800 / D4500 series.

---

DC-LOF ProCON series

---

The concealed cam action door closers with slide channel have a light resistance for door opening. This design benefits the old, women and children to open the door easier. The concealed cam action door closer is ideal to apply to interior and exterior doors, and also suitable for commercial and residential buildings. The concealed mounted door closer with slide channel adopts CAM action technology and offers easy door opening, has the advantage of an almost immediate reduction in resistance. When the door is opened, the concealed cam action door closer provides the maximum 5lbs opening force, meet the DDA (Disability Discrimination Act) regulation, which mandates a door closer must produce an opening force less than 30N between 0° to 30° and less than 22.5N between 30° to 60°. *Forbid selling to Japan.

---

---
Press Release
Looking for Agents

We are looking for district agents and dealers, for our hot items, you're welcome to apply for if you have certain confidence and determination.

Read More

6 Series SLIDEback sliding door closer

D&D's 6 Series SLIDEback sliding door closer is a semi-automatic style door closer. When the door is opened, the self-closing feature can make the door closed automatically, the smooth closing...

Read More

Glass Patch Lock set with mechanical latch for interior door

Our glass patch lock PLI-10LR series applies for the fascinating frameless glass doors and it is a simple and elegant lever handle lock set for frameless glass door in the private environment....

Read More