Deadbolt lock for narrow stiles
LC-02
Single point deadbolt for swing door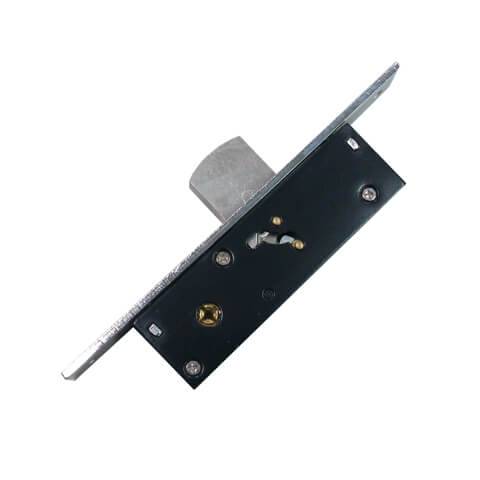 The deadbolt lock is designed for aluminum-profile swing doors.
The single point lock incorporate advanced security and safety features.
The slim design is particularly for narrow stiles.
Features
Safer-protected locks make the ironwork installer's job easier because of a case smaller than 15mm.
The deadbolt lock is designed for swing doors.
Cross key type cylinder to operate the bolt throw, don't need extra cylinder
One lock is supplied with three keys.
Strike plate and two key-guide roses are standard pack.
Specification
Material of case: steel in black or stainles steel
Bolt: stainless steel deadbolt throw
Backset: 19 mm
Dimension: 160 x 14 x 34 mm
Faceplate width: 20 mm
Material of strike plate: steel in polished chrome or satin nickel. Stainless steel strike plate is also available.
Cross key type with 2 roses and 3 keys
Packing details
Individually packed with strike plate, 2 roses and 3 keys
1 set in 1 blank box
Applications
For swing door with narrow stile
E-catalogue Download

---

The cross key locks are operated by cross key, don't need extra oval cylinder or euro cylinder. The single point lock incorporate advanced security and safety features. The slim design is particularly for narrow stiles.

---

---

Related Products

---
Press Release
Looking for Agents

We are looking for district agents and dealers, for our hot items, you're welcome to apply for if you have certain confidence and determination.

Read More

6 Series SLIDEback sliding door closer

D&D's 6 Series SLIDEback sliding door closer is a semi-automatic style door closer. When the door is opened, the self-closing feature can make the door closed automatically, the smooth closing...

Read More

Glass Patch Lock set with mechanical latch for interior door

Our glass patch lock PLI-10LR series applies for the fascinating frameless glass doors and it is a simple and elegant lever handle lock set for frameless glass door in the private environment....

Read More