Dust Proof Strike with lock, 2"
FB-91-200
Dust proof strike bolt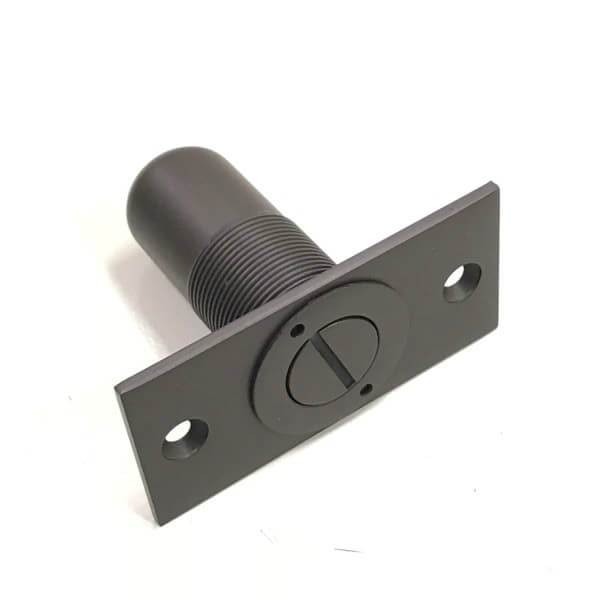 The 2" dust proof strike with lock is designed for use with the bottom bolt of all flush bolts.

The dust proof stike is nearly flush with the top of finished floor.

Spring loaded plate receives bolt throw and keeps dust out. That is to say, spring loaded plunger returns to floor or threshold level while flush bolt is retracted, eliminating need to clean standard floor strikes.

The spring loaded plate with a slot can be locked by turning the slot a little bit, so that the bolt cannot put into the cavity.
Features
To be used with manual or auto flush bolts
Keep dust free
Removable face plate for work with thresholds
Adjustable height for more application like carpeted or decorative areas
Lock design for doors opened continuously
Simple installation
100% made in Taiwan with durable quality
Specification
Material: Brass
Finish: could be painted or plated per requested
Face plate size: 73.5 x 35.2 mm
Barrel diamether: 23.7 mm
Barrel depth: 50.8 mm (2")
Packing details
10 pcs per box
100 pcs in a carton
Applications
Work with manual or auto flush bolts
Photos

E-catalogue Download

---

A door latchbolt acts as a ramp to push the bolt in while the door is being closed. We make the flush bolt for metal doors and timber doors.

---

---

Related Products

FB-90

---

The dust proof strike without lock is designed for use with the bottom bolt of all flush bolts. The dust proof stike is nearly flush with the top of finished floor. Spring loaded plate receives bolt throw and keeps dust out. That is to say, spring loaded plunger returns to floor or threshold level while flush bolt is retracted, eliminating need to clean standard floor strikes. It is similar to IVES DP2 dust proof strike.

---

FB-91-144

---

The 1.44" dust proof strike with lock is designed for use with the bottom bolt of all flush bolts. The dust proof stike is nearly flush with the top of finished floor. Spring loaded plate receives bolt throw and keeps dust out. That is to say, spring loaded plunger returns to floor or threshold level while flush bolt is retracted, eliminating need to clean standard floor strikes. The spring loaded plate with a slot can be locked by turning the slot a little bit, so that the bolt cannot put into the cavity.

---

FB-92

---

The dust proof strike is designed for use with the bottom bolt of all flush bolts. The dust proof stike is nearly flush with the top of finished floor. Spring loaded plate receives bolt throw and keeps dust out. That is to say, spring loaded plunger returns to floor or threshold level while flush bolt is retracted, eliminating need to clean standard floor strikes.

---

---
Press Release
Looking for Agents

We are looking for district agents and dealers, for our hot items, you're welcome to apply for if you have certain confidence and determination.

Read More

6 Series SLIDEback sliding door closer

D&D's 6 Series SLIDEback sliding door closer is a semi-automatic style door closer. When the door is opened, the self-closing feature can make the door closed automatically, the smooth closing...

Read More

Glass Patch Lock set with mechanical latch for interior door

Our glass patch lock PLI-10LR series applies for the fascinating frameless glass doors and it is a simple and elegant lever handle lock set for frameless glass door in the private environment....

Read More