Escutcheon Lever out trim for ED-400 S sereies Mortise lock rim exit device
MRESC99 series
Heavy duty rigid lever escutcheon out trim for ED-400 S sereies Mortise lock rim exit device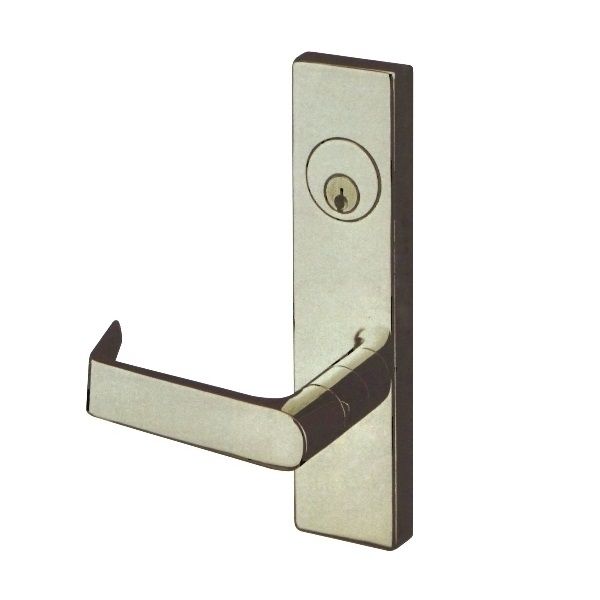 The rigid lever escutcheon design outside trim can be used with the ED-400 S sereies Mortise lock rim exit device.
The trim is non handed and is through-bolted to the chassis for greater security and durability.

The rigid lever escutcheon trim has the same appeance but with different inner structures and installing holes when the outside trim works with different exit device. Therefore, please advise the exit device you are going to offer on upon ordered.
Features
Rigid, non clutch mechanism
Double heavy duty spring support to prevent sagging and enhance operation
Non-handed Grade 1, easiest field reversible.
Through-bolted to the chassis for greater security and durability
Available in 3 functions including entrance, storeroom and passage
Available for fire and non fire rated rim and vertical rod exit devices
Specification
For 1-3/4" doors
Size: length 8", width 2", lever length 4-3/4"
Keyway: standard 6 pin Schlage "C" mortise cylinder included
Finish: architectural plated finish like US26D, US10B, US3, US4 and so on
Entrance function: Entrance. Key locks or unlocks lever. ANSI function - 63.
Storeroom function: Key retracts latch bolt, otherwise always locked. ANSI function - 04.
Passage function: Trim always operable and free. ANSI function - 62.
Applications
The appearance of out trim looks like the same, but the inner structure and installing holes will be different for diverse exit devices.
Please advise the cooperated exit device item number when you inquire and order out trims.
All trims and exit devices are ordered and packaged separately.
High frequency abusive situation such as schools, hospitals, industrial and institutions.
Related Products

ED-400 S series

---

The grade 1 exit device ED-400 mortise lock series provides a UL certified solution to meet ADA standards for maximum 5 lb operating force and conforms to standard UL 10C 3 hours fire rating.Normaaly, the fire rated mortise exit device is more popular than non fire rated one. We also provide the D shape chassis cover for your selection.When your application calls for reliable and durable quality, ED-400 mortise lock series of exit devices fills the need. D&D's exit devices meet life safety and compliance challenges with opening solutions that make access in life – smart and secure.** Forbid selling to America and Canada.**

---

---
Press Release
Looking for Agents

We are looking for district agents and dealers, for our hot items, you're welcome to apply for if you have certain confidence and determination.

Read More

6 Series SLIDEback sliding door closer

D&D's 6 Series SLIDEback sliding door closer is a semi-automatic style door closer. When the door is opened, the self-closing feature can make the door closed automatically, the smooth closing...

Read More

Glass Patch Lock set with mechanical latch for interior door

Our glass patch lock PLI-10LR series applies for the fascinating frameless glass doors and it is a simple and elegant lever handle lock set for frameless glass door in the private environment....

Read More