Grade 1 Exit Device with D shape chassis cover
ED-500 D series
Rim type and vertical rod exit device
Similar to Cal-Royal T5000 & TF5000 series
Similar to Stanley QED300 series, Arrow ED910 series and Allegion Falcon 20 series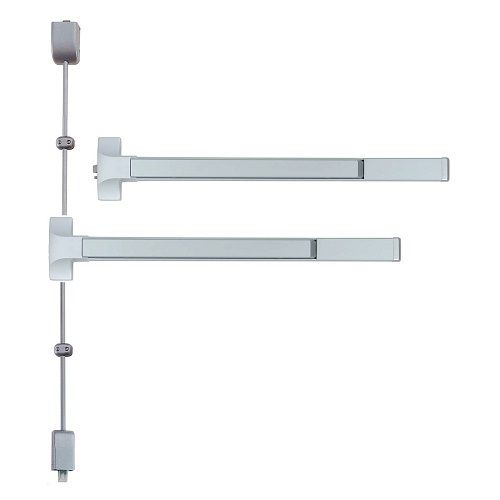 The grade 1 exit device ED-500 series with D shape chassis cover exit device provides a UL certified solution to meet ADA standards for maximum 5 lb operating force and conforms to standard UL 10C 3 hours fire rating.

When your application calls for reliable and durable quality, ED-500 series with D shape chassis cover exit devices fills the need. D&D's exit devices meet life safety and compliance challenges with opening solutions that make access in life – smart and secure.
Features
ANSI A156.3, Grade 1 exit device in surface vertical rod and rim designs.
UL Listed for panic and UL 10C, UBC 7-2-1997 codes
UL Listed for fire exit hardware, 3 hours for use on doors up to 38" x 86"
Label rating in pairs of doors up to 8' x 8' swing in the same or opposite directions.
Conforms and meets ADA regulations
Uncompromising security and safety in single and double fire exit doors
Chassis mounted unit construction
Available in various applications
Lever and escutcheon trims are grade 1 construction with clutch freewheeling mechanism
Specification
Minimum stile: 4-1/2"
Standard door thickness 1-3/4"
Latch bolt: stainless steel 3/4"
Chassis: steel or stainless steel
Cover: zinc alloy or stainless steel
Spring: stainless steel throughout
ANSI standard: A156.3, Grade 1
Dogging feature: Allen key furnished standard on non-fire rated devices
Touch bar: height to finish floor, 41" from floor
Touch bar project: Neutral 2-1/2", Depressed 1-3/4"
Center case: 6" x 3-3/4" x 2-1/2"
Material of end cap: steel construction
Finish: aluminum painted or satin stainless steel (US32D). Other finish like duro, polished brass or chrome are available by request.
Non-handed
Reversible Left handed and Right handed for vertical rod type
Packing details
4 sets in one carton
N.W. of ED-500P-36: 15.7 kg per carton
G.W. of ED-500P-36: 16.7 kg per carton
N.W. of ED-500F-48: 18.5 kg per carton
G.W. of ED-500F-48: 19.5 kg per carton
Applications
For commercial applications, including wood doors, steel doors or aluminum doors
All exit devices shall be of touch bar design with smooth operation and be operative over 2/3 of the door's clear opening width.
All exit devices must be listed under "Panic Hardware" in the Accident Equipment List of Underwriters' Laboratories, Inc. Where labeled doors are used as exits, they must be equipped with labeled Fire Exit Hardware and UL 10C, UBC 7-2-1997 codes.
All exit devices shall be of chassis mounted unit construction.
Related Products

---
Press Release
Looking for Agents

We are looking for district agents and dealers, for our hot items, you're welcome to apply for if you have certain confidence and determination.

Read More

6 Series SLIDEback sliding door closer

D&D's 6 Series SLIDEback sliding door closer is a semi-automatic style door closer. When the door is opened, the self-closing feature can make the door closed automatically, the smooth closing...

Read More

Glass Patch Lock set with mechanical latch for interior door

Our glass patch lock PLI-10LR series applies for the fascinating frameless glass doors and it is a simple and elegant lever handle lock set for frameless glass door in the private environment....

Read More