Three point lock Exit Device
ED-850 & ED-851 series
Rim exit device and three point locking surface vertical rod exit device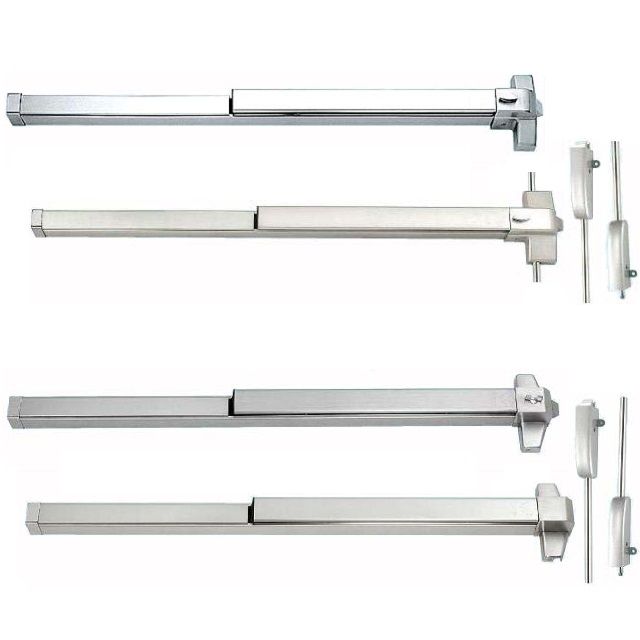 The ED-850 and ED-851 series exit device has thumb-turn dogging mechanism.
Especially ED-851PV panic exit device with surface mounted vertical rod has three point locking design for more security.

When your application calls for reliable and durable quality, ED-850 and ED-851 series exit devices fill the need. D&D's exit devices meet life safety and compliance challenges with opening solutions that make access in life – smart and secure.
Features
3-POINT locking surface mounted vertical rod exit device: ED-850PV
2-POINT locking surface mounted vertical rod exit device: ED-851PV
Thumb-turn dogging mechanism equipped for non-fired exit device
Handed: Reversible, please specify LHR or RHR preset upon ordered
Exit device in surface vertical rod and rim designs.
Uncompromising security and safety in single and double exit doors
Chassis mounted unit construction
Available in various applications
Could work with a wide range of out trims
Specification
Main material: stainless steel or steel
Dogging feature: Allen key furnished standard on non-fire rated devices
Finish: painted color or satin stainless steel (US32D)
Non-handed for rim type
Reversible Left handed and Right handed for vertical rod type
Packing details
6 sets in one carton
N.W. of ED-851PV: 26 kgs
G.W. of ED-851PV: 27 kgs
Applications
For commercial applications, including wood doors, steel doors or aluminum doors
Used in schools and universities
Used in health care facilities
Used in government and municipal buildings
Used in office and retail complexes
Used in transportation facilities
Used in hotels and conference centers
Used in religious facilities
Related Products

---
Press Release
Looking for Agents

We are looking for district agents and dealers, for our hot items, you're welcome to apply for if you have certain confidence and determination.

Read More

6 Series SLIDEback sliding door closer

D&D's 6 Series SLIDEback sliding door closer is a semi-automatic style door closer. When the door is opened, the self-closing feature can make the door closed automatically, the smooth closing...

Read More

Glass Patch Lock set with mechanical latch for interior door

Our glass patch lock PLI-10LR series applies for the fascinating frameless glass doors and it is a simple and elegant lever handle lock set for frameless glass door in the private environment....

Read More