Crossbar Exit Devices with surface mounted vertical rod
ED-920 series
Similar to Cal-Royal 4400 series
Similar to Sargent 9800 series croosbar exit device
Similar to Corbin Russwin ED3000 series croosbar exit device
Similar to Von Duprin 88 series croosbar exit device
Similar to Yale 1500 series traaditional croosbar exit device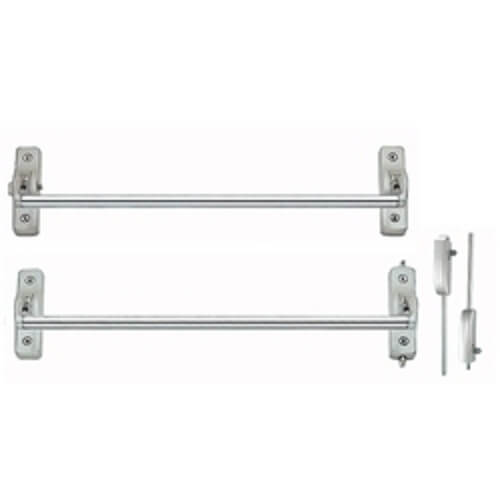 The exit device ED-920 series is a wide stile device and a standard device for applications where a crossbar is preferred.

The ED-920 series crossbar exit devices are available in rim type and surface mounted vertical rod. Designed for application in high-use, high-abuse situations. ED-920 series crossbar exit device can be teamed with a variety of out trims to provide desired functions, styles and finishes in new construction and renovations.

When your application calls for reliable and durable quality, ED-920 series crossbar exit device fills the need. D&D's exit devices meet life safety and compliance challenges with opening solutions that make access in life – smart and secure.
Features
Easy-to-use crossbar operation assures quick egress
Dogging standard on all panic listed devices
Devices available to satisfy panic opening requirements
Handed: please specify left handed or right handed upon ordered
Surface mounted vertical rod features top and bottom bolt design
Specification
Rim type and surface mounted vertical rod type
Crossbar: 1" steel tube
Crossbar: 36" from floor standard. For elementary school, 33" from floor recommended.
Dogging feature: Allen key furnished standard on non-fire rated devices
Finish: silver or dark bronze painted
Hand: Reversible, please specify Left handed or Right handed upon ordered
Applications
For commercial applications, including wood doors, steel doors or aluminum doors
Used in schools and universities
Used in health care facilities
Used in government and municipal buildings
Used in office and retail complexes
Used in transportation facilities
Used in hotels and conference centers
Used in religious facilities
Related Products

---
Press Release
Looking for Agents

We are looking for district agents and dealers, for our hot items, you're welcome to apply for if you have certain confidence and determination.

Read More

6 Series SLIDEback sliding door closer

D&D's 6 Series SLIDEback sliding door closer is a semi-automatic style door closer. When the door is opened, the self-closing feature can make the door closed automatically, the smooth closing...

Read More

Glass Patch Lock set with mechanical latch for interior door

Our glass patch lock PLI-10LR series applies for the fascinating frameless glass doors and it is a simple and elegant lever handle lock set for frameless glass door in the private environment....

Read More