Door Closer similar to Dorma TS 77
DC-D7800 series
European style hydraulic door closer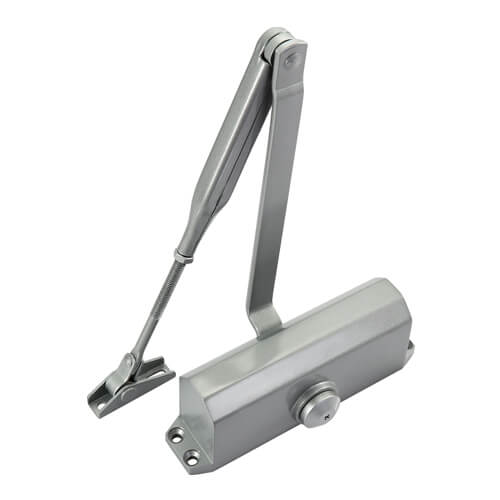 The DC-D7800 series surface mounted door closer is a basic entry door closer. A standard door closer with scissor arm will be an economical solution for swing doors. The closer's body can be fixed on the door leaf, top frame for vertical or parallel installations by standard accessories plus optional L plate.

The DC-D7800 series surface mounted door closer specially apply for light metal and wood doors in commercial and residential builidings.
Features
Available in size 2, 3, 4 and adjustable power size 2~4 by different installing position.
Dual valves for adjustable closing speed and latch speed.
Non-handed installation for standard arm, parallel arm and sliding arm.
Provide constant closing speed under a wide variety of temperatures, for all seasons.
300,000 cycles tested
5-years warranty and Lifetime after-sales service.
Specification
Power size: 2, 3, 4, adjustable 2~4 by position
Max. loading capacity: 45 kg, 60 kg, 80 kg
Max. door width: 850 mm, 950 mm, 1100mm
Body size: 179 x 42 x 64.3 mm
With dual valves for closing speed and latching speed
With standard arm
Optional hold open arm
Optional parallel arm bracket
Optional sliding arm
Optional sliding arm and hold open clip
Optional back check function
Finish: silver, but other colors are available by request
No cover
Packing details
1 set in 1 box
10 sets in 1 carton
N.W.: 16 kg per carton
Applications
For wood doors, metal doors in commercial, residential buildings
E-catalogue Download

---

The DC-D7800 series surface mounted door closer is a basic entry door closer. A standard door closer with scissor arm will be an economical solution for swing doors. The closer's body can be fixed on the door leaf, top frame for vertical or parallel installations by standard accessories plus optional L plate. The DC-D7800 series surface mounted door closer specially apply for light metal and wood doors in commercial and residential builidings.

---

---

Related Products

---
Press Release
Looking for Agents

We are looking for district agents and dealers, for our hot items, you're welcome to apply for if you have certain confidence and determination.

Read More

6 Series SLIDEback sliding door closer

D&D's 6 Series SLIDEback sliding door closer is a semi-automatic style door closer. When the door is opened, the self-closing feature can make the door closed automatically, the smooth closing...

Read More

Glass Patch Lock set with mechanical latch for interior door

Our glass patch lock PLI-10LR series applies for the fascinating frameless glass doors and it is a simple and elegant lever handle lock set for frameless glass door in the private environment....

Read More