Glass Free Hinge, Glass to Glass, outswing, 135 degree
GHN-01-135-OUT
Glass pivot hinge, Glass door hinge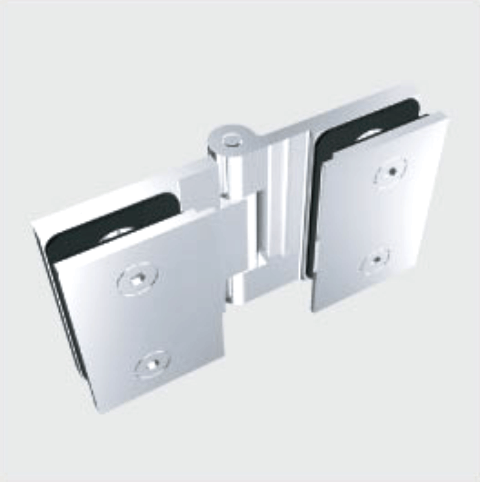 D&D glass free hinge uses a pivot to connect two brass parts which hold the glass panels.
Our GHN-01-135-OUT is a pivot hinge for inswing glass door, one part is fixed on the wall and another to hold the glass panel.
The opening angle can be up to 135 degree.
There is no spring inside, so a door can stop where you open.
Please check the door is inswing or outswing before you purchase.
Features
Glass to Glass 135 degree
No spring inside
For OUTSWING interior door
With all-season gasckets, offer durable elasticity, firmly holding quality
100% made in Taiwan
Mostly export to Europe
Specification
Material: brass
Finish: plated like polished chrome, brushed nickle and so on
Apply for 8~10 mm glass
Max. glass weight: 45 kgs
Max. glass door width: 1000 mm
Packing details
2 pcs (1 pair) in a kraft box
20 pcs in a carton
Net weight: 22 kgs per carton
Gross weight: 22.50 kgs per carton
Applications
Suitable for shower enclosures, wet rooms, bathroom, glass door, balustrade gate and glass furniture.
Photos

E-catalogue Download

---

The door hinge for glass door connects glass panel and glass panel or wall and glass panel, makes glass door opening and closing. There are wall mount, 180 degree glass to glass, 135 degree glass to glass and 90 degree glass to glass for selection.

---

---

Related Products

GHN-01-90-IN

---

D&D glass free hinge uses a pivot to connect two brass parts which hold the glass panel. Our GHN-01-90-IN is a pivot hinge for inswing glass door, one part is fixed on the wall and another to hold the glass panel. The opening angle can be up to 90 degree. There is no spring inside, so a door can stop where you open. Please check the door is inswing or outswing before you purchase.

---

GHN-01-90-OUT

---

D&D glass free hinge uses a pivot to connect two brass parts which hold the glass panel. Our GHN-01-90-OUT is a pivot hinge for inswing glass door, one part is fixed on the wall and another to hold the glass panel. The opening angle can be up to 90 degree. There is no spring inside, so a door can stop where you open. Please check the door is inswing or outswing before you purchase.

---

GHN-01-135-IN

---

D&D glass free hinge uses a pivot to connect two brass parts which hold the glass panels. Our GHN-01-135-IN is a pivot hinge for inswing glass door, one part is fixed on the wall and another to hold the glass panel. The opening angle can be up to 135 degree. There is no spring inside, so a door can stop where you open. Please check the door is inswing or outswing before you purchase.

---

---
Press Release
Looking for Agents

We are looking for district agents and dealers, for our hot items, you're welcome to apply for if you have certain confidence and determination.

Read More

6 Series SLIDEback sliding door closer

D&D's 6 Series SLIDEback sliding door closer is a semi-automatic style door closer. When the door is opened, the self-closing feature can make the door closed automatically, the smooth closing...

Read More

Glass Patch Lock set with mechanical latch for interior door

Our glass patch lock PLI-10LR series applies for the fascinating frameless glass doors and it is a simple and elegant lever handle lock set for frameless glass door in the private environment....

Read More