SELFCLOSE Sliding Door Closer, Non-electrified device
6SDC-693
Self-closing sliding door closer, manual open and auto close will be launched on July 1st, 2019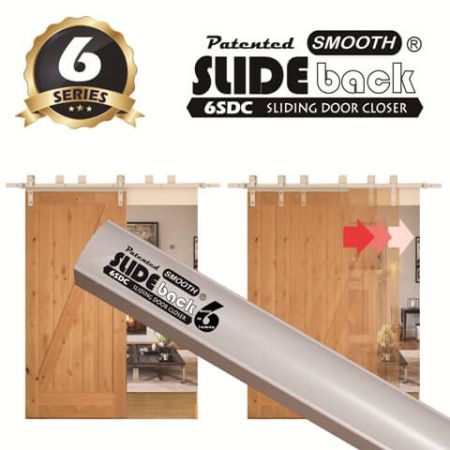 D&D's SELFCLOSE sliding door closer is a semi-automatic style door closer. When the door is opened, the self-closing feature can make the door closed automatically, the smooth closing performs just like an electric style automatic door.

The eco-friendly SELFCLOSE sliding door closer is non-electrified device, just add SELFCLOSE sliding door closer on the sliding door to have a door operate like an automatic sliding door with noise reduction, energy efficiency and saving money.

The SELFCLOSE sliding door closer has thinner cylindrical tube, durable lifetime and maintenance free, can have the indoor and outdoor isolated.

The SELFCLOSE sliding door closer for different door types such as timber door, steel door, aluminum door, patio door and frameless glass door could be widely used for commercial, industrial hospital and residential.

D&D's SELFCLOSE sliding door closer is the 6th generation of SLIDEback sliding door closer.
The main newly features improved from the previous SLIDEback sliding door closer include:
Variety Mounting Applications: The various mounting bracket combinations offer a variety of installing options. These brackets are suitable for the most of sliding doors, barn doors, framed sliding doors, frameless glass doors, patio doors, storefront sliding doors, interior sliding doors, bypass sliding doors, double sliding doors and so on. Furthermore, attaching and detaching (switching on and off) in 1 second quick is also available through the new bracket connections.
Easy Installation: The buckling clip mounting seats makes the installation easier than any others.
Aesthetic Decoration: The newly style Casing of 915mm (35") length is supplied as the standard pack. Moreover, the various colors are available as an option, it makes the door closer to be concordant beauty with the door.
Slim Body: The slim body offers more possibilities to be concealed in door jamb, hidden with rail or somewhere.
Speed control: The location of Speed control valve is moved to the front for more convenient speed adjustment.
Hold-Open: The various mounting ways of Hold-open device offer a convenient operation.
Durability: 200,000 cycle tested, much more durable than before and better than others.
Service: 1 year warranty and lifetime after-service.
Features
Multinational PATENTED worldwide
100% made in Taiwan with reliable quality and after-care service.
Self-closing sliding door closer, close door automatically.
Non-electrified device with excellent hold-open function.
SELFCLOSE sliding door closer is the 6th generation SLIDEback sliding door closer
Compare to expensive fully automatic door system, our SELFCLOSE sliding door closer is a good value for money.
No need to change a whole new sliding system, just simply add our SELFCLOSE sliding door closer on your current sliding door to make your door like an automatic sliding door.
Indoor and outdoor isolation, offer sound reduction and energy efficiency.
SELFCLOSE sliding door closer can be buckled into two mounting seats easily
Best choice for sliding door with good rolling system.
The closing speed can be adjusted by a simple Allen key at the front side.
Various combinations of new brackets for more applications like timber door, metal door, frameless glass door, framed glass door, double sliding doors and bypass sliding doors.
Life span: 200,000 cycles guaranteed
One year warranty
Specification
Standard body length: 693 mm
For door width: 690 ~ 1,160 mm, but door width 690 ~ 1,100 mm is recommended for best performance of SELFCLOSE sliding door closer. Other body length and extension can be custom-made per requested.
Main material: aluminum
Standard finish: natural aluminum anodized. (Other colors are available as optional.
Power Force: Extra Light (X), Light duty (L), Light Plus (L+), Medium duty (M), Medium Plus (M+), Heavy duty (H), Heavy Plus (H+)
Door weight: can be applied for the door weight 1 ~ 200 kgs, depense on the door's rolling smoothness. If the rolling system is smooth enough, even the light duty can carry an 80 kgs door.
Application: various combinations of new brackets offer more applications for different door types.
Decorative Casing: The standard 915 mm (36") casing is the same as the door's width up to 915 mm (36"), so SELFCLOSE sliding door closer can be completely hidden behind casing, create an overall aesthetic look.
How to select the suitable power force for your door?
If you have no idea about your door weight and the start force to move the door or the condition of the smooth of rolling, there is a simple way might help you to choose the probably proper power force. (For reference only)
Applications
Apply for double doors and barn doors.
Apply for wood door, metal door, frameless glass door and framed glass door.
Apply for sliding door with hanging rollers or with rollers on floor track.
Install the SELFCLOSE sliding door closer at smoking area to have the smoke isolated.
Install the SELFCLOSE sliding door closer at outdoor pool to keep the door always closed for child's safty.
Also can be installed on data center, kitchen, cabinets, big truck and so on.
Videos

Operation of SELFCLOSE sliding door closer - Noodle restaurant 1

Fix SELFCLOSE on door frame

Fix SELFCLOSE on door leaf

Applicaion of Hold-open

Related Products

---
Press Release
Looking for Agents

We are looking for district agents and dealers, for our hot items, you're welcome to apply for if you have certain confidence and determination.

Read More

New Door Closer

D&D the 5th generation of SLIDE back sliding door closer reduces the opening force up to 50% and have much lighter and smoother operation.

D&D SLIDE back sliding door closer can upgrade...

Read More

New Glass Patch lock for interior door

INFINITY-The interchangeable parts, make one lock work out extra models like Dummy, Switch, Cylinder and Indicator.

Read More