SLIDE back Sliding Door Closer
5SDC-702 series
Self closing sliding door closer, Manual sliding door closer.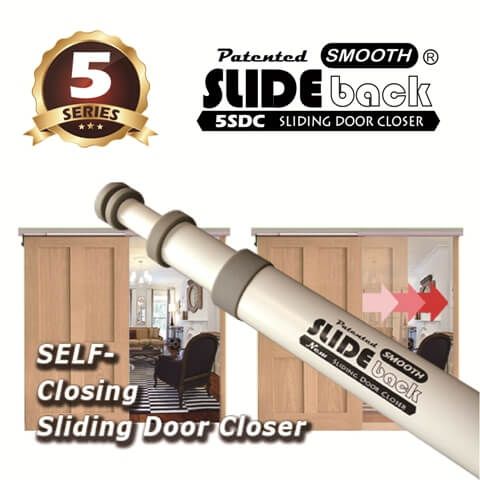 Our 3SDC series has been upgraded to the 5th generation, named 5SDC series.
This sliding door closer is a relatively inexpensive door closer for home improvement.
It keeps the sliding door always closed, no electricity needed.
It stops the insects and dust from coming into house. The spaces of indoor and outdoor can be isolated easily.
Features
Close door automatically.
The electric power is not needed.
Body length: 702mm
Max. opening width: 1230mm, suit for the door width 730~1230mm.
If the rolling system is smooth enough, even our light duty one can operate an 80kgs door. 
Different power forces including light, medium and heavy duty for your selection.
With adjustable closing speed.
Different brackets design suitable for different doors.
100,000 cycles tested
Specification
POWER FORCE

Extra Light

Light

Light

PLUS

Medium

Medium

PLUS

Heavy

Heavy

PLUS

Article No. 5SDC-702

X

L670

L600

M670

M600

H670

H600

Power force, start (kgf)

0.7

0.8

1.0

1.2

1.4

1.6

1.9

Power force,full extended (kgf)

2.0

2.4

2.7

3.6

4.2

5.6

6.1

Suggested door weight (kgs)

0-35

20-80

30-120

40-150
For example:
If you need "Medium duty", the part number is 5SDC-702M670.
Applications
Install the SLIDE-back sliding door closer in smoking area to have the smoke isolated.
Install the SLIDE-back sliding door closer in outdoor pool to keep the door always closed for children's safty.
For your current sliding door, just add on our SLIDE-back sliding door closer, no need to change a new sliding system, then your door is just like an automatic sliding door.
The appearance of 5SDC is the same as 3SDC, the main improvements are:
1. Lighter initial operating force: lighter force to open the door, especially suitable for non-seal doors.
2. More stable and smooth closing speed.
3. No black grease comes out.
4. Minimum the impact noise.
5. HOM (hold-open device by magnet) is also available as optional part.
Youtube Video
Application of SLIDE back sliding door closer
Features of SLIDE back sliding door closer
Installation of SLIDE back sliding door closer in a coffee shop
Installation of 1 piece connected bracket (SDC-MBF)
Installation of 2 pieces adjsutable bracket (SDC-MBA)
Installation of pin bracket (SDC-MBP)
Press Release
New Door Closer

The 5th generation of SLIDE-back sliding door closer, reduces the opening force up to 50%, making the operation much lighter and smoother.

Read More

New Glass Lock

INFINITY-The interchangeable parts, make one lock work out extra models like Dummy, Switch, Cylinder and Indicator.

Read More

Looking for Agents

We are looking for district agents and dealers, for our hot items, you're welcome to apply for if you have certain confidence and determination.

Read More