SLIDE back Sliding Door Closer
5SDC-702 series
Self close sliding door closer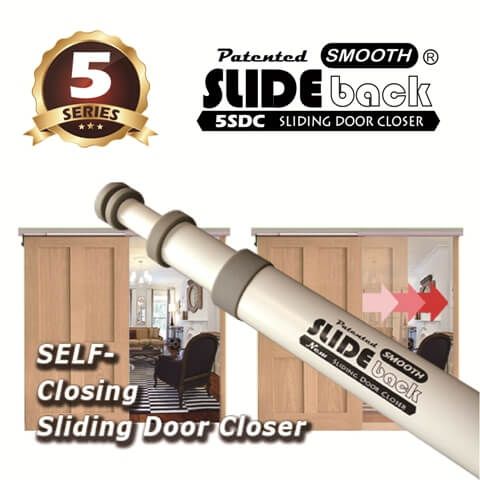 Our SLIDE back sliding door closer can upgrade your sliding door like an fully automatic sliding door.
Don't need to change a new sliding system, just add our SLIDE back on your current sliding system to keep a door always closed.

How does SLIDE back work for a door?
After installing SLIDE back, open a door manually, then the door willl close back by itself.

Furthermore, SLIDE back sliding door closer is a shortcut to do something for green and go green building.
The best chacteristic of our SLIDE back is non-electrified, this mechanism is energy efficient and climate-ready and has been tested for durability and perfect performance.

Our 3SDC series has been upgraded to the 5th generation, named 5SDC series.
SLIDE back sliding door closer is a good value for home improvement.
SLIDE back keeps the sliding door always closed, no need electricity.
SLIDE back stops the insects and dust from coming into house.
The spaces of indoor and outdoor can be isolated easily.

The appearance of 5SDC is the same as 3SDC, the main improvements are:
1. New SLIDE back has much lighter initial operating force, the door can be opened with less power, it is especially suitable for non-seal doors.
2. New SLIDE back has stabler and smoother closing speed, just like a hydraulic door closer.
3. Compare to old version, new SLIDE back won't have black grease attached on the stretching out tubes.
4. New SLIDE back has lower bump sound caused by plastic parts.
5. We designed a simple hold open device to work with SLIDE back, it is an optional if you want a door to hold open for a while longer, not just for a second.
** While installation, please note the door closer has to be fixed all in a HORIZONTAL LEVEL for perfect operation.
Features
PATENTED.
100% made in Taiwan.
Self close sliding door closer, close door automatically.
The electric power is no need, non-electrified.
Compare to expensive fully automatic door system, our SLIDE back is a great deal.
No need to change a whole new sliding system, just add our SLIDE back on your current sliding door to have your door like an automatic sliding door.
Offer sound reduction and energy efficiency.
Easy installation, only need four screws, then you can enjoy your life with ease.
Best choice for sliding door with good rolling system.
With adjustable closing speed, the closing speed can be adjusted by a simple Allen key.
Design of various brackets provides more applications for timber door, metal door, frameless glass door and glass door with frame.
100,000 cycles tested
One year warranty
Specification
Standard body length: center to center 702mm
For door width: 750~1240mm
The size can be custom-made per requested.
Main material: aluminum
Finish: natural aluminum anodized
Force: extra light, light duty, light plus, medium duty, medium plus, heavy duty, heavy plus
A wide usage for door weight from 1kg to 150 kg.
If the rolling system is smooth enough, even our light one can operate an 80kgs door. 
A standard kit needs one SLIDE back sliding door closer and a MBA bracket.
Available in a variety of sizes, it has numerous configurations, brackets and casing options.
Optional connecting bracket: MFF, MBF, MBA, MBP, MBG, MBL
Optional hold open device: HOM
Optional decorative casing: small casing MBC to cover closer body or big casing MBCL to cover overall closer's body, bracket and track.
How to select the suitable power force for your door?
If you have no idea about your door weight and the start force to move the door or the condition of the smooth of rolling, there is a simple way might help you to choose the probably proper power force. (For reference only)

First of all, use ONE finger only to push the door, and see how far the door moves, then refer to the below table to select the power force.
Packing details
Standard packing: 1 set in a box, 30 sets in one carton.
Carton size: 89x26x25 cm
Gross weight: 19 kgs per carton
Carton measurement: 0.058 CBM per carton
Applications
Apply for timber door, metal door, frameless glass door and glass door with frame.
Apply for sliding door with hanging rollers or with rollers on floor track.
Install the SLIDE back sliding door closer at smoking area to have the smoke isolated.
Install the SLIDE back sliding door closer at outdoor pool to keep the door always closed for child's safty.
Also can be installed on data center, kitchen, cabinets, big truck and so on.
Videos

Installation of SLIDE back with MBA bracket

SLIDE back sliding door closer in a bakery

Applications of SLIDE back sliding door closer (old version)

Features of SLIDE back sliding door closer

Installation of SLIDE back with MFF bracket

Installation of SLIDE back with MBP bracket (old version)

Photos

E-catalogue Download

---

The SLIDE back sliding door closer can be installed in the sliding door to make sure the door closed any time after people are in and out frequently.

---

---

Related Products

---
Press Release
New Door Closer

D&D the 5th generation of SLIDE back sliding door closer reduces the opening force up to 50% and have much lighter and smoother operation.

D&D SLIDE back sliding door closer can upgrade...

Read More

New Glass Lock

INFINITY-The interchangeable parts, make one lock work out extra models like Dummy, Switch, Cylinder and Indicator.

Read More

Looking for Agents

We are looking for district agents and dealers, for our hot items, you're welcome to apply for if you have certain confidence and determination.

Read More